Auto-Body Technician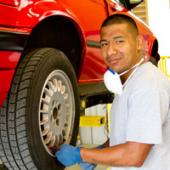 Alternate Job Titles: Automotive Body Repairer, Collision Repair Technician
Job Description: Auto-body Technicians use a wide range of high-powered tools and machines to repair accident-related cosmetic, structural, or engine damage. For example, they use hydraulic presses to realign warped metal frames and components; pneumatic metal-cutting guns to remove badly damaged sections of car body panels; and hydraulic jacks or pneumatic hammers to remove dents and dimples. They manipulate grinders and hot-air welding guns to reshape plastic components on newer-model vehicles. Some specialize in the repair of fiberglass car bodies, and others focus on classic car restoration, keeping the muscle cars, vintage racers, and other bits of automotive history alive.
Working Conditions: Auto Repair Technicians usually work 40 hours per week; However, overtime may be required occasionally to meet the demands of clients. Some technicians take on additional projects outside of normal working hours in order to supplement their income.
Repair shops are usually large to accommodate the many hydraulic, pneumatic, and hand tools needed for the job. They must be very well ventilated to protect the technician from the fumes and dust created during the repair process. Like an automotive technician, the work of a collision repair specialist can be at times strenuous or frustrating. However, the technician can take satisfaction in seeing the concrete results of his efforts as a car is restored to like-new condition.
Education and Training Requirements: The rapid technological advances of the automobile industry have made formal training a near must for all automotive service jobs. Automobile bodies are now often made from a combination of different materials – from the traditional steel to new varieties of plastics and metal alloys – each of which requires different reshaping techniques. 

Training programs at trade and technical schools last from six months to two years, depending on the specific course of study. Those professionals with one year of formal, post-secondary automotive training can try for the prestigious ASE credential after just one year on the job. Those without training must have two years of work experience before taking ASE exams. ASE offer's four Master Collision and Refinish Exams. To earn the certification, repair experts must pass at least one of the exams. ASE Repair technicians who pass all four of the repair exams are awarded master-level status and typically earn the highest salaries.
Salary Range: 
* Overall National Average: $43,000 
* Average Among Top 10%: $72,000 
* Entry-level Average: $31,000 
* High-level Average: $60,000
Job Outlook: Good to Excellent. Through the year 2012, employment in the U.S. automotive repair field is expected to increase by about 13%, with the creation of more than 7,000 new jobs each year. (ETA) In addition to a shortage of qualified collision repair technicians, there will be increased demand due to the changing bodies of automobiles, which use lighter weight materials and plastics that are more prone to damage in collision.
Check out the schools below to learn more abour earning an automotive degree. For your convenience, the list is organized by state.
Enroll in a school and learn how to repair automobiles today!
Sources:
National Institute for Automotive Service Excellence (ASE)
Career Voyages
Department of Labor Employment & Training Administration (ETA)
9165 reads