Automobile Mechanic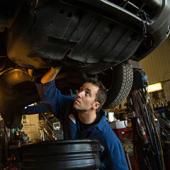 Job Description: Automobile Mechanics identify and fix problems that occur in all vehicles. Some repair jobs require only minor computerized adjustments, and others require getting one's hands into the grease of a vehicle's internal components. A technician must develop extensive technical and analytical skills in order to service the many different brands of cars and tackle the most diverse problems an automobile may have.
Working Environment: Most automobile mechanics work 40 hours a week at a repair shop, and many choose to supplement their income by doing extra repair jobs on nights and weekends as self-employed workers.
Automobile mechanics often work in high-tech repair shops where they use sophisticated software and sensors to get to the root of a car's problems. A wide range of tools — everything from air wrenches to welding equipment to basic hand-tools — allow the mechanic to repair, replace, or readjust malfunctioning parts as needed.
Education and Training Requirements: Most automobile mechanics used to learn their trade through a three or four year apprenticeship at a repair shop. The technological progress in the automotive field, however, has made post-secondary training programs a necessary requirement. The best programs are usually taught at a vocational school or community college. At a vocational school, the training lasts between six months and one year. A community college, on the other hand, spreads the training over two years, because courses in other subjects are required. During this instruction, students typically alternate six or twelve weeks of classroom learning with six or twelve weeks of working hands-on at a dealership or training facility.
With two years of job experience, voluntary certification by the ASE (National Institute for Automotive Service Excellence) becomes an option. A year spent at technical school counts as a year of work experience. This national standard of achievement can be obtained in areas such as engines, drivetrain, brakes, suspension, body systems, and other areas. See the ASE section of this website for more details.
In addition, automobile manufacturers such as Porsche, BMW, Jaguar, and many others are now offering advanced programs that accept gifted graduates of certain training programs who wish to jumpstart their career. Schools such as Lincoln Tech offer manufacturer programs to qualified graduates of their regular automotive programs. Promotion to journey-level technician usually takes two to five years, but postsecondary training, and especially these advanced programs, can cut this time in half.
Salary Range: 
* Entry Level Pay: $25,000-35,000
* Mid-Range Pay: $35,000-45,000
* Experienced Pay: $45,000-55,000
* Top Level Pay (Master Mechanic): $60,000-100,000
Job Outlook: Good to Excellent. Through the year 2010, employment in the automotive repair field is expected to increase about 10-20%. The ever-increasing number of cars on the roads ensures the need for good mechanics, and job security will be good because the automotive repair business is little affected by general economic trends.
8432 reads