Collision Repair & Refinishing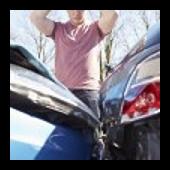 Automotive collision repair and refinishing specialists work with both cosmetic and serious structural and engine damage. The work that collision repair and refinishing technicians do has become more dynamic and challenging. Automobile designs and technology have become increasingly complex, as car manufacturers are now incorporating body parts made of steel alloys, aluminum, and plastic. Due to the complexity of the collision repair job, automotive body, paint, interior, and glass repair shops generally give hiring preference to formally trained automotive technicians.

A student in an auto collision repair training program takes classes in cosmetic or non-structural repair work, learns how to read damage reports, and develops various techniques to repair the majority of cosmetic problems that a car can receive in a minor to medium accident. Students learn how to repair more serious types of damage that may require section repairs, welding, windshield replacements, and more. In auto refinishing courses, students deal mostly with surface paints, tints, and covering up superficial dings. In refinishing curriculum, students learn all about color theory, airbrushing, and how to paint a car so that it looks as if it just rolled out of the factory. As coursework gets more advanced, students learn about engine repair, which covers everything from repairing steering systems or suspension systems to air conditioning.
Individuals who complete collision repair training are qualified to join a segment of the automotive industry that rewards hard work and technical skill. Experienced auto collision experts can earn more than $28 per hour in wages and incentives. As your career progresses, there could be opportunities for managerial positions such as shop supervisor or insurance company work such as automobile damage appraiser.
If you are a person who enjoys projects, and likes seeing them through to completion, you will definitely love the dedication it takes to become an expert master technician in collision repair and refinishing.


Source:
U.S. Bureau of Labor Statistics
8397 reads