Motorcycle Service Technician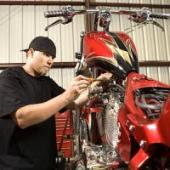 Also Called: Recreational Vehicle Technician
Job Description: Motorcycle mechanics repair and restore cruisers, choppers, sport bikes, dirt bikes, all-terrain vehicles, jet skis and even snowmobiles. In this way, they often deal with a larger variety of vehicles than an automotive technician. In a single day, a motorcycle mechanic may work on a race-inspired, fuel-injected inline four sport bike engine; a single-cylinder, a two-stroke jet ski motor; and a carbureted, air-cooled V-twin. However, they use much the same electronic equipment, manual tools, and repair techniques as an automobile mechanic to diagnose problem areas and replace worn or damage components.
Working Environment: Most motorcycle service technicians work 40 hours per week in a dealership or independent repair shop. Since most motorcycles and related vehicles are designed for high performance, the technician may spend a good deal of time adding aftermarket components and modifications to satisfy an owner's appetite for speed. Many dealerships also sponsor a shop-based racing team, which opens the opportunity for pursuing racing as a hobby. The work is also often seasonal, with snowmobiles replacing motorcycles and jet skis in the winter months.
Education and Training Requirements: As in all other fields of the transportation industry, apprenticeships are being superseded by formal education programs. Although motorcycle maintenance certification programs are somewhat less prevalent than automotive programs, there still exists a wealth of opportunities at both community colleges and trade schools. These courses usually take as long as automotive programs, which means between six months and two years. Manufacturers such as Honda, Kawasaki, Harley-Davidson and others offer shorter-term advanced training programs that supplement one's core maintenance courses. These courses often focus on hands-on learning and enable a student to begin building relationships with a particular manufacturer's vehicles and employees before finishing graduation.
Salary Range:
Median: $25,000
Middle 50 percent: $20,000-$33,000
Top 10 percent: more than $41,000
Job Outlook: Fair to Good. Through the year 2010, employment is expected to rise three to nine percent, which is slightly slower than average. A large segment of the population, however, will be passing age 40—an age group among which motorcycles have always been popular. This rebounding interest in recreational vehicles and motorcycles should lead to greater sales and therefore to the need for competent mechanics.
7781 reads