Automotive Electrician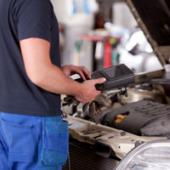 Job Description: Electronic equipment installers and repairers for motor vehicles install, diagnose, and repair communication, sound, security, and navigation equipment in motor vehicles. Most installation work involves either new alarm or sound systems. New sound systems vary significantly in cost and complexity of installation. Replacing a head unit (radio) with a new computer disc (CD) player is quite simple, requiring the removal of a few screws and the connection of a few wires. Installing a new sound system with a subwoofer, amplifier, and fuses is far more complicated. Motor vehicle installers and repairers work with an increasingly complex range of electronic equipment, including DVD players, satellite navigation equipment, passive-security tracking systems, and active-security systems.
Working conditions: Motor vehicle electronic equipment installers and repairers normally work indoors in well-ventilated and well-lighted repair shops. Minor cuts and bruises are common, but serious accidents usually are avoided when safety practices are observed.
Education and Training Requirements: Knowledge of electrical equipment and electronics is necessary for employment. Many applicants gain this knowledge through programs lasting one to two years at vocational schools or community colleges, although some less skilled repairers may have only a high school diploma. Entry-level repairers may work closely with more experienced technicians who provide technical guidance.
Salary Range: 
Median Hourly Wage: $12.50
Middle 50 percent: $10.00-$16.00
Highest 10 percent: Greater than $19.50
Job Outlook: Employment of motor vehicle electronic equipment installers and repairers also is expected to grow as fast as the average. However, motor vehicle manufacturers will install more and better sound, security, entertainment, and navigation systems in new vehicles, limiting employment growth for aftermarket electronic equipment installers. In addition, newer electronic systems are more reliable and require less maintenance.
10873 reads