Diesel Technician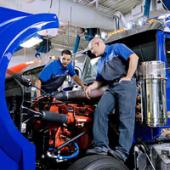 Alternate Job Title: Large Truck or Bus Technician
Job Description: A Diesel Engine Technician works on diesel-powered vehicles such as buses and semi-trucks, which serve as the backbone for the nation's interstate-trade and transportation industries. In addition, automobile manufacturers are currently making great technological leaps in diesel engine performance for cars and light trucks.
Diesel engine technicians often work on a fleet of vehicles owned by a trucking company or a transportation department where they complete routine maintenance and use a variety of computerized and manual equipment to pinpoint and repair specific vehicle malfunctions. Like an automotive technician, a diesel technician must keep pace with the cutting edge technology that powers such diesel-powered beasts such as the Cummins ISX Turbo Diesel, which makes up to 565 horsepower and 1850 lb-ft of torque! Companies like Kenworth, Peterbilt, and Volvo couple such engines to 10-18 speed transmissions with rear axles rated to 46,000 lb.
Working Conditions: Diesel Engine Technicians usually work 40 hours a week in a repair shop equipped with the heavy-duty hoists, lifts, and power tools necessary to handle such large vehicles. In a large shop, a technician often receives repair assignments from a shop supervisor. Some repairs require awkward, greasy manual tasks with basic hand-tools. The increase of microprocessors and on-board computers, however, is making the need for computerized adjustments more and more common. In any case, the need for good analytical and mechanical skills is a requirement.
Education and Training Requirements: The tradition of apprenticeships and informal on the job training is being surpassed by postsecondary diesel service certification programs, just as is the case in the automotive maintenance industry. The best programs are usually taught at trade and technical schools and last between six months and two years, depending on what other academic courses are required. After graduation, some manufacturers such as International offer 10 to 20 week advanced programs, which guarantee a job and accelerate promotion to the journey level.
With two years of job experience, automotive professionals have the options of voluntary certification by the ASE (National Institute for Automotive Service Excellence). A year spent at technical school counts as a year of work experience. This national standard of achievement can be obtained in areas such as engines, brakes, drivetrain, body systems, suspension, and other areas. ASE also certifies that one has become a Master Heavy-Duty truck technician, which requires years of experience but very high pay.
Salary Range:
25th percentile: $30,000
Median: $36,000
75th percentile: $45,000
Job Outlook: Good to Excellent. Through the year 2010, employment in the automotive repair field is expected to increase about 10-20%, which is about as fast as the average. The increasing amount of interstate freight and commerce will guarantee the need for skilled diesel technicians. In addition, job security should remain good, because diesel repair is always needed even during an economic downturn.
8483 reads